Experienced Orthodontists
Meet the Professionals Behind Your Perfect Smile
Exceptional care provided by our team of doctors with multiple decades of experience. When you get orthodontic treatment at Coastline, your smile is in the best hands possible.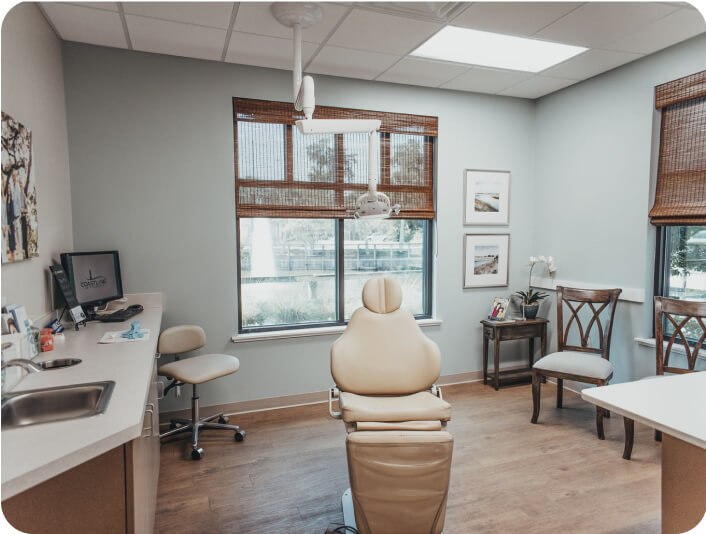 Experience Matters
No matter which provider at Coastline Orthodontics is responsible for your care, rest easy knowing that we only employ the best doctors who take pride in the smiles of our patients. It is your confidence at stake, and we understand how valuable your trust is in us, as your orthodontic care provider.
Dr. Valerie Minor
I did not always want to be an orthodontist. I did consider dentistry or possibly medicine as a career choice after completing a 9th grade science project on "Which toothpaste whitens the best ?". However, when it was time to go off to college, I could not imagine going to school for another 8+ years, so I decided to get an engineering degree. After graduating from North Carolina State University with degrees in Chemical Engineering and Pulp and Paper Science, I was fortunate to get a great job working for Rayonier in Fernandina Beach, FL, near my hometown.
After a short time working in the manufacturing industry, I decided that this was not for me. While working at Rayonier, I spent some time shadowing Dr. Suellen Rodeffer in her orthodontic practice. I realized very quickly that this was a profession that I would love. It seemed to combine the engineering that I had learned with the interaction and care for people that I was missing in a manufacturing facility. I was amazed to see the changes that could take place and the smiles on the faces of Dr. Rodeffer's patients when they would leave her office. At that time, Dr. Rodeffer joked with me that one day I would come back and be one of her partners. Little did I know that God was planning that very path for me.
With the blessing of my wonderful husband, I made up my mind to pursue that goal. After taking several prerequisite courses while still working for Rayonier, we packed up and moved to Gainesville, FL, for 7 years of training at the University of Florida. I am so blessed that God saw fit to lead me down this amazing journey. I joined Rodeffer and Garner Orthodontics in 2006, and my husband Will was able to teach and start the baseball program at the newly opened Yulee High School. We became Rodeffer, Garner, and Minor Orthodontics shortly thereafter, and now we have changed the name again to Coastline Orthodontics with the addition of Dr. Mokris to our practice. My husband, Will is part owner of Netting Professionals, a business that specializes in sports netting and supplies for recreational leagues, high schools, colleges, and pro sports teams. We have 4 amazing children named Harper, Savannah, Ava, and Addison (twins). Needless to say, our kids keep us very busy, but they are the joy of our lives.
When I am not at the office or at one of our children's activities, I enjoy going to the beach, exercising, reading, and watching sporting events – especially Gator football and baseball. I am so blessed to be a Macclenny, Fernandina Beach and Jacksonville, FL, orthodontist, in such a beautiful area with amazing people. I enjoy getting to know our patients and watching the transformation that takes place as they develop more confidence in their smiles. We hope that you will feel comfortable in our practice, and we appreciate the trust that you have placed in us to take care of your smile.
Degrees
Chemical Engineering and Pulp and Paper Science, 1997, North Carolina State University
Doctor of Dental Medicine, 2003, University of Florida
Master of Science/Orthodontic Certificate, 2006 University of Florida
Dental & Orthodontic Memberships
Dr. Brad Mokris
I often get asked how I ended up becoming an orthodontist. Well the truth is, it wasn't my first choice of career paths. In kindergarten, my teacher asked the class what we wanted to be when we grew up. Confidently, I stood up and told the class I wanted to be an astronaut. As I sat down, proud of my distinguished future profession, my best friend whispered in my ear: "sometimes when astronauts go up in space, they get lost and don't come back down." Needless to say, I never sent my application in to NASA. True story. I did, however, have the experience of getting braces in high school, and after getting them off, I spent many hours shadowing my orthodontist and other orthodontists throughout high school and college. I know everyone has an opinion of the "perfect" career. But for me, this was it. I am very proud and appreciative of what I get to do everyday. As a Macclenny, Jacksonville and Fernandina Beach, FL, orthodontist, I create smiles…what a job!
After college and a not so brief hiatus surfing in Hawaii, I spent 7 years in Gainesville, Florida receiving my dental and orthodontic training. It was there that I met the one and only love of my life, Jennifer, also a dentist practicing in Fernandina Beach. We have 4 children, Avery, Reese, Austin and Graham. Our children are our life, and they keep us on our toes endlessly. But we do manage to travel quite a bit, whether its up to the Carolinas to see my parents and 3 brothers, or right down the road for an afternoon at the beautiful North Florida beaches. Orthodontics is a constantly evolving and exciting field. At Coastline Orthodontics, we truly believe we have an obligation to provide our patients with the safest and most advanced treatment options available. This is not something that is learned once but an ongoing learning process with continuing education and a lifelong pursuit to be the best at what we do. These aspirations help us to give our patients individualized treatment geared for the most healthy and efficient path towards a beautiful smile.
Degrees
B.S. in Biology, 2003, University of North Carolina at Chapel Hill
Doctor of Dental Medicine, 2008, University of Florida
Master of Science/Orthodontic Certificate, 2011, University of Florida
Dental & Orthodontic Memberships
Dr. Julia Lipkin
I was born in Belarus and moved to the United States with my family to go to college. From a young age, I wanted to be in the medical field to pursue my love for science, to help people, and to make a difference in the lives of others. When I started my undergraduate degree at the University of Wisconsin, Milwaukee I was offered a full time dental assistant position. A few months later, I fell in love with dentistry and realized it was my dream career. I earned my dental degree from Nova Southeastern University in Fort Lauderdale, then finished an advanced training residency in general dentistry at Miami VA Hospital to further advance my clinical skills. I realized very early that the most conservative and yet the most artistic specialty in dentistry is orthodontics. Therefore, I decided to pursue my dream career further and completed the orthodontic residency program at Jacksonville University School of Orthodontics. I am very passionate about providing beautiful, healthy, life changing smiles for children, teens and adults. I also love to establish long lasting relationships with my patients. It is so exciting to see before and after photos and patients' excitement when they finish their orthodontic treatment. Every day, I see that by improving someone's smile you don't just change their appearance, you often change their whole life for the better. This is something that motivates me to stay up to date with the latest technology and clinical skills and to provide the best customer service to my patients.
In my free time, I enjoy spending time with my two daughters and my husband. I also like to bake various desserts, play the piano, go to the beach, as well as biking and kayaking with my family and friends. I am very excited to join the Coastline Orthodontics family to help patients achieve their dream smiles!
Dr. Mary Keezel
I was born and raised in Cape Coral in southwest Florida. At the age of 5, I was first introduced to the idea of being a dentist. I watched the classic Christmas animated movie, Rudolph, and I instantly felt a connection with the character Hermey. Hermey was an elf who wanted to be a dentist. Apparently, I was an extremely impressionable child because I just knew that I wanted to become a dentist by the end of the movie. Fast forward to 10 years later. After completing my own orthodontic treatment, I decided to see if dentistry was really for me. I began shadowing different professions including multiple dentists. It was during this time that I met an orthodontist who became my mentor and has been one of my biggest supporters throughout my journey. I attended Florida State University (Go Noles!) where I received my Bachelors of Science in Exercise Science. I then decided to move up north to Boston, Massachusetts where I lived for four years while I earned my dental degree from Tufts University School of Dental Medicine. I absolutely loved having actual seasons every year, but the big city lifestyle wasn't for me. When it came time to move again, I was excited to return to Florida and call Jacksonville my new home. I completed my orthodontic residency at Jacksonville University School of Orthodontics, where I met the love of my life, Dr. Andrew Mancia. We are excitedly planning our wedding which is coming up soon in March of 2022. In my free time I enjoy watching/playing soccer, snowboarding, spending time with family and friends, and trying new things. I am currently trying to learn how to surf in my spare time!
I am extremely excited to have joined the Coastline Orthodontics family, and I am enjoying getting to know all our amazing patients! I am so grateful to be a part of your orthodontic journey and I look forward to seeing you in our office!
Our Locations
Our providers see patients at one four convenient Coastline Orthodontics locations in the Jacksonville, Macclenny and Fernandina Beach.